For all inquiries, please use our online order or send e-mails to:
For online chat, please click:
Alternatively, you may contact us at our global offices listed below:
Freeze Dried (FD) Garlic
Freeze Dried (FD) Garlic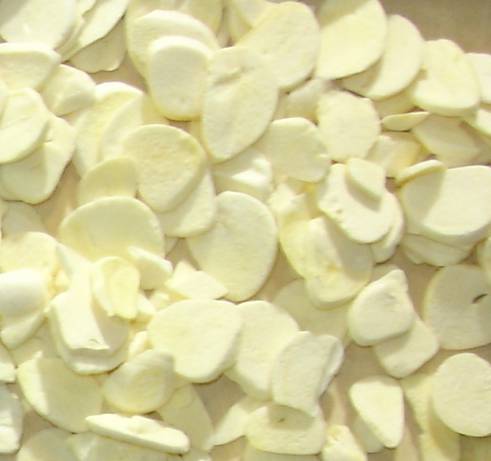 Freeze-dried
(FD) garlic is fresh garlic that have been frozen then had the water removed.
The result is a light-weight, fresh appearing and tasting preserved food that
can be rehydrated with a minimum amount of water: making them a great option for
fresh garlic lovers.
The
process involves freezing a fresh garlic in a special "freeze drying chamber,"
then removing the water by quickly changing the chamber's pressure and
temperature. This "quick change" preserves the cell structure of the garlic
without compromising vitamins, nutrients, color or the natural aroma or taste of
the original fresh garlic.
Product
Name: Freeze Dried Garlic Granules
Certification: HACCP, KOSHER,
FDA
Specifications for FD garlic
| | |
| --- | --- |
| Name of product(English) | FD Garlic Granules |
| Ingredients | Garlic |
| Packing | 25 Kg carton with inner 2 X 12.5 poly bags |
| Shelf life | 18 months |
| Storage conditions | Closed ambient warehouse |

Organoleptic
| | |
| --- | --- |
| Taste | Typical garlic |
| Color | Off-White |
| Odor | Typical garlic |

Chemical and physical
| | |
| --- | --- |
| Mesh size | 60-80 mesh |
| Moisture | Max.6% |
| Pestiside residue | 0.01-0.05ppm |
| Aflatoxins | Negative |
| Gluten | None present |
| Ash | Less than 0.5% |
| Ash insoluble ash | Less than 0.2% |
| Allergic material | Absent |

Microbiological
Total plate count

Max.100,000/gram

Salmonella

Negative in 20 gram

Total Coliform

Count

Max.500/gram

Staphylococcus

aureus

Less than 50/gram

E.Coli

Negative in 1 gram

Yeast

Max.100/gram

Moulds

Max.100/gram

Standard nutritional value per 100 gram
| | | | |
| --- | --- | --- | --- |
| Calories | 332 kcal | Phosporus | 417.0mg |
| Protein | 16.80 g | Iron | 2.75mg |
| Fat content | 0.76 g | Sodium | 26.0mg |
| Carbohydrate | 72.71 g | Potassium | 1101.0mg |
| Fiber | 9.9 g | Magnesium | 58.0mg |
| Calcium | 80.0mg | | |